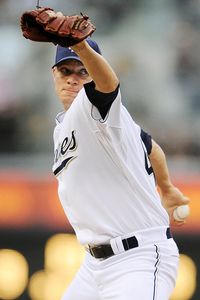 Today has been a hectic day for baseball players, mangers, reporters, and fans. Big names were swirling around the media, players like Halladay, Lee, Martinez, Laroche, and my favorite player Adrian Gonzalez.
My heart sank thinking about the Padres Offense without there top hitter, or should I say there only hitter. I didn't how much of the Padres sucking I could tolerate from the players to the terrible ownership( the owner had to cut his payroll significantly because he couldn't keep "
his pants on
"' if you know I mean.
I woke up about 8 in morning to check up on trade rumors, and there was a bunch of story's going around many which fell threw. Adrian Gonzalez was heavily targeted by the Red Sox in a mega blockbuster trade. The price was eventually to high for the Red Sox's who have a serious problem of clinging on to there prospects.
There was serious trend of many teams holding on there prospects a little bit too much these past couple of years, but a bit more evident this year.
I was constantly watching and reading about updates of padres on the move. The deadline finally arrived and no Padres were traded ........
YET
.
When I arrived thinking that all the trades were set and done I heard a Bombshell. I mean this was the biggest trade I seen the Padres make in the 9 years of following them. It was Jake Peavy who got traded which was a bittersweet moment for me. I seen Jake pitch since the beginning of his pro debut, Peavy was the face of the franchise of the Padres along with ex padres Trevor Hoffman for many years.
Although I'm saddened of his departer I know its for the better of the team. I'm really excited of the young arms were receiving from the White Soxs.
Clayton Richard is struggling a bit, like most rookie, but with him moving to the NL and in pitchers friendly Petco Park his numbers will greatly improve. My favorite player has to be the White Sox top pitching prospect Aaron Poreda. He had a great season in AA this year with a 2.38 ERA and only 1 HR allowed and was recently called up.
The Padres look like they have a good young rotation
Chris Young/Mat Latos/Clayton Richards/Aaron Poreda/ maybe Sean Garrland
Overall I like the Padres move of Jake Peavy because they pulled off a great trade that benifits them for years to come.